Agriculture
The Cassowary Coast supports a nationally significant food production industry.
The region is home to about 80% of Australia's banana industry. It is a significant contributor to the production of sugar and a recognised premier growing region for tropical fruits and vegetables, cattle and fisheries.
Combined with readily available agricultural land, abundant rainfall, rich soils, favourable climatic conditions and plentiful sunshine, the Cassowary Coast is highly suitable for agribusiness.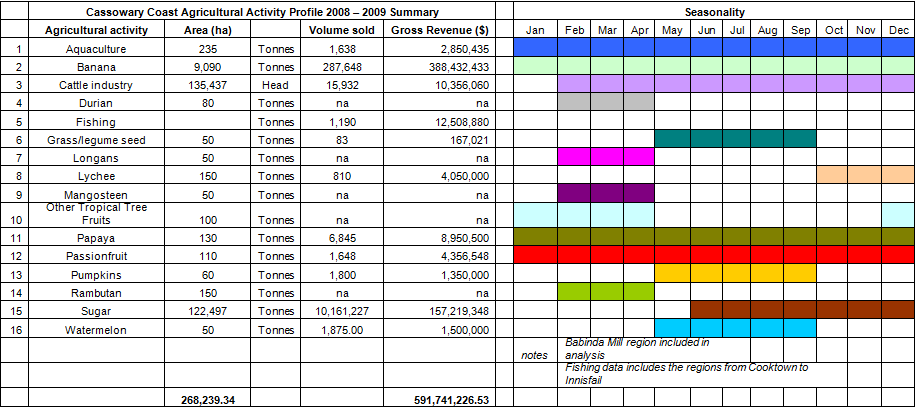 Table provided courtesy of Queensland Primary Industries & Fisheries, Department of Employment Economic Development and Innovation
Investment Opportunities
Council is keen to speak to organisations and individuals who are looking for opportunities to develop and diversify the region's agricultural industry. A number of opportunities exist, as noted below. Further initiatives are welcomed.
Bananas
Processed and dried
Paper
Mulch
Sugar Cane
Begas and other energy generation potential
Tropical Fruits and Vegetables
Processed and dried
Fresh fruit export
Canneries
Packaging
Fisheries and Aquaculture
Processed
Packaging
Live and processed seafood export
Meat & Livestock
Meatworks – Existing facility available, currently under care and maintenance
Packaging
Export