Cassowary Coast Coastal Hazards Adaptation Strategy
Overview
With over 120km of coastline and a number of offshore islands, the Cassowary Coast region and its residents are vulnerable to changes in coastal hazards and the long-term impacts of climate change. We understand coastal hazards and their devastating impacts having experienced events such as, severe flooding of the Johnstone and Murray Rivers and the impacts of Cyclones Larry (2006) and Yasi (2011).
As part of the Evolving with Our Coast project we are preparing a Coastal Hazard Adaptation Strategy (CHAS). The CHAS will:
Assess the risk from coastal hazards, including coastal erosion, storm tide inundation and sea level rise, over time.
Identify adaptation actions to respond to these coastal hazards.
Establish a strategy for implementing these adaptation measures which outlines roles, responsibilities and timeframes for actions.
Preparing the strategy
The project has been largely funded by the Queensland Government's QCoast2100 Program.
There are 8 phases for preparing a CHAS, we have completed the first 5 phases of the project. We are now undertaking engagement and technical work for Phase 6.
The CHAS is expected to be completed in early 2022 where you will be given another opportunity to provide feedback on the draft Evolving with Our Coast strategy.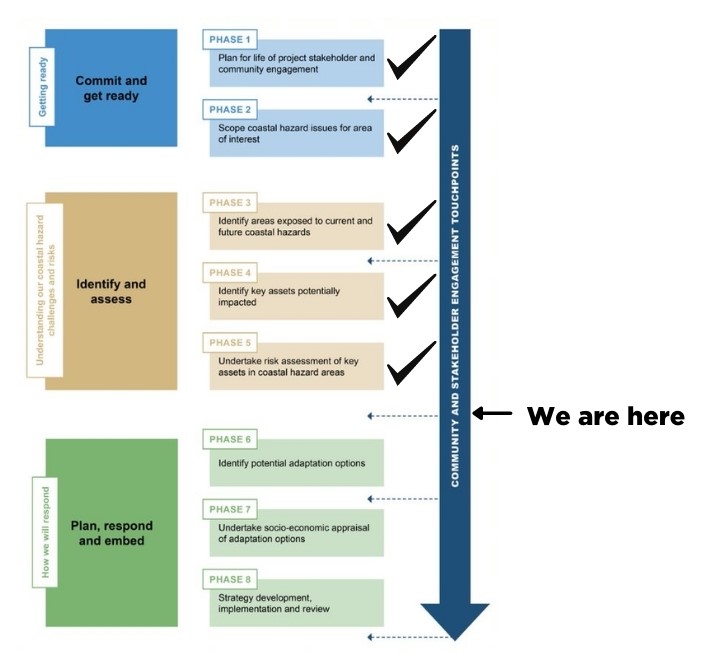 Have your say!
We need your input to inform the preparation of the draft Evolving with Our Coast strategy. Since we last consulted with you, the team have identified key Council and community infrastructure at risk to coastal hazards, over the short, medium and long term period.
We have developed new coastal hazard mapping for seven localities which identifies projected coastal hazard impacts over the next 80 years. Click here to see your locations hazard mapping.
We are now starting to consider potential appropriate responses to adapt to coastal hazards in the future. Each coastal locality in the Cassowary Coast region is unique and will need tailored mitigation responses in the future. Selection of these coastal adaptation actions will need to balance community benefits and impacts with financial and environmental sustainability.