Community Composting Program
Composting Rebate Program
Did you know that organic materials makes up a majority of total waste from Cassowary Coast Regional Council. This includes everything from food scraps to newspaper, shredded cardboard, hair and lawn clippings.
Because we live in the Wet Tropics with high annual rainfall, all of our organic waste must be sent to a landfill outside of our region, thereby increasing Council costs.
Composting is an easy way to reduce the amount of waste that goes into landfill, help save money, decrease greenhouse gas emissions and protect the natural environment. It is simple to set up and gives back by producing nutrient rich materials (soil and fertiliser) for your vegetable garden.
The Composting Rebate Program encourages the community to start composting their kitchen scraps and organic materials to helps us reduce waste entering landfill. To support residents get started, Council is offering a $20 rebate for the purchase of a compost bin or worm farm for their household.
To claim your $20 Rebate for Compost Bin or Worm Farm you will need to provide Council Customer Service with:
Completed Community Compost Program Application Form
Tax invoice/receipt for compost bin or worm farm
Proof of residency e.g. rates notice, driver's license, bill with address
Return the completed Community Compost Application form, tax invoice and proof of residency to Council via:
Email to enquiries@cassowarycoast.qld.gov.au
Post to PO Box 887, Innisfail, QLD 4860 (please provide bank account details on application for your deposit of your $20 rebate)
In person at our Customer Service desk in Innisfail Shire Hall or Tully Civic Centre
You can choose to receive a cash rebate or we can arrange a bank transfer.
Along with the $20 rebate, you will also receive a FREE composting information pack with tips and tools to help start and continue your compost or worm farm.
Choosing a Composting Method
When it comes to recycling organic waste, there are plenty of options to suit all lifestyles, from your traditional garden stationary composting bin to an indoor composter for apartments.
To help you select the right composting method for your wants and needs complete the flow chart below.
For your own reference please click here to download your own copy of the Composting Method Flowchart.
Resources
Flowchart for Choosing a Composting Method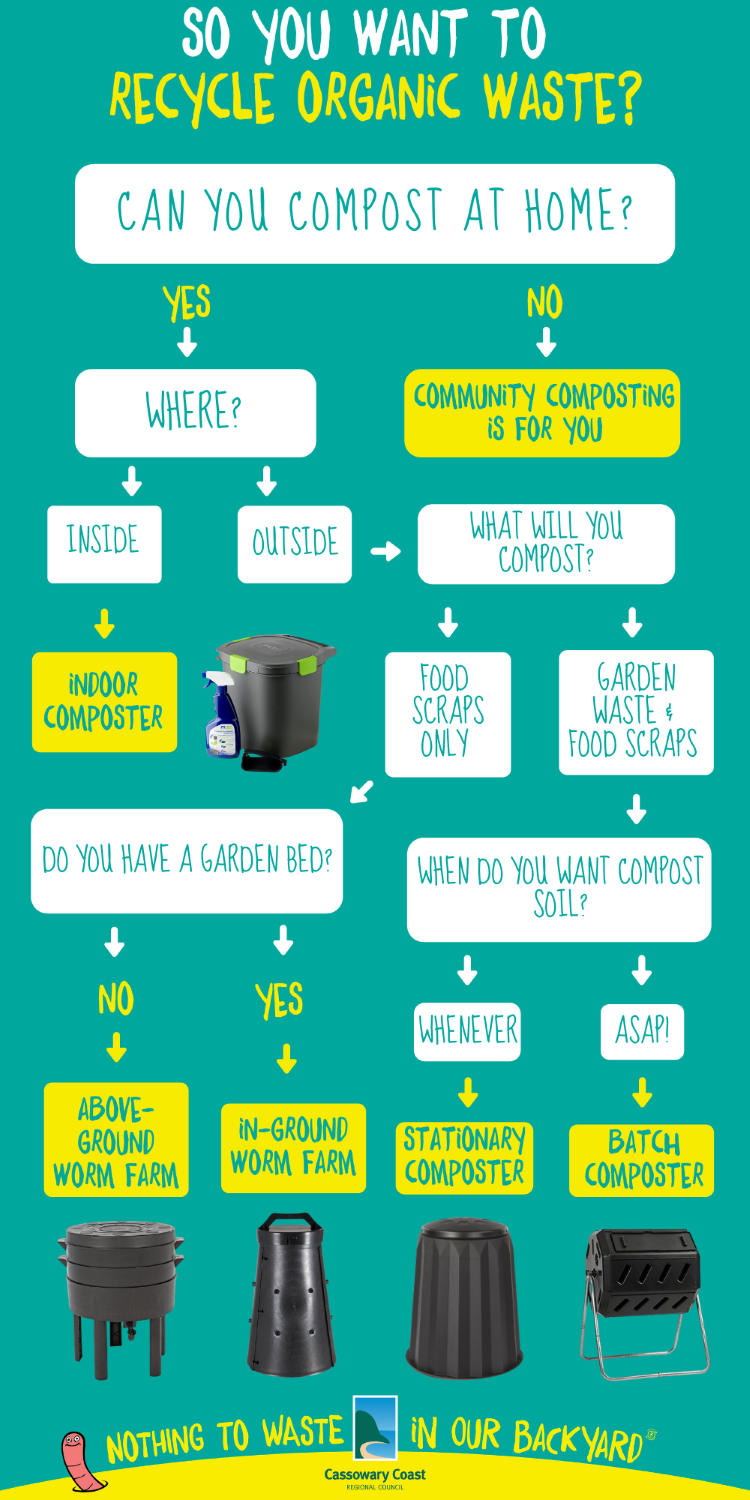 Click on the links below to find out more about Waste Managment: