Domestic Garbage Service Days
Please use the calendars and the search field below to identify which week you will need to put out two bins (this is the highlighted week on the calendar) and which week you just put out one bin (the wet waste bin). Your area has been classified as either a week one or week two area in relation to bin collections. If you live on a street where bins are collected on multiple days, and you are not sure which day to put your bins out, please contact Council on 1300 763 903.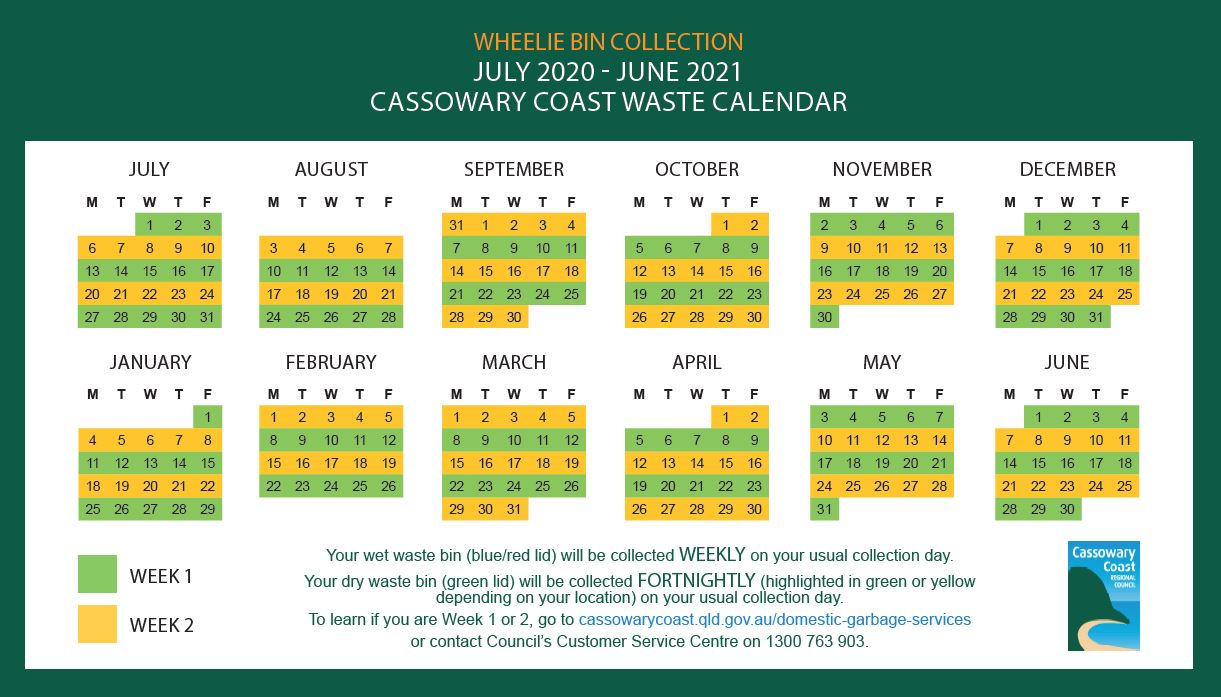 House
Number
Street
Name
Locality
Name
Post
code
Day
Week
Domestic Garbage Services
The Cassowary Coast has a two wheelie bin system for kerbside garbage collection - the red or blue-lidded bin is for "wet waste" and the green-lidded bin is for "dry waste". The wet waste bin is collected every week and the dry waste bin is collected every second week. Please see above for collection days.
Separating Waste
Wet waste contains putrescibles such as food scraps and as this decomposes a liquid called leachate is produced. Council has stringent environmental obligations to contain the leachate onsite. Due to our weather conditions and soil qualities, there is an increased risk that the leachate may be more difficult to contain which potentially exposes our environment to contamination. Instead, our wet waste is sent to the Springmount landfill in Mareeba for safer disposal.
Dry waste however, contains a minimal amount of putrescibles producing a low amount of leachate and can be stored in our own landfills.
Examples of wet waste:
Food scraps
Aerosol cans
Unrinsed steel cans
Dirty plastic bags
Unrinsed food and drink containers
Disposable nappies (napkins, tissues, cotton wool, etc.)
Other wet waste materials (putrescibles)
Small quantities of garden waste (please try composting instead)
Examples of dry waste:
Clean plastic bags, cans, bottles, jars, food and drink containers
Paper and cardboard
Plastic
Wood and cork
Glass (all types)
Small metal items
Fabric (clothing, shoes etc)
Clean packaging material
Frequently-Asked Questions about our Garbage Collection System
Ways to Recycle on the Cassowary Coast
All improved properties in the serviceable area are required to have a wheelie bin service. Wheelie bin services are charged to the rates of a property. A property is serviceable unless it is located in a rural area and the house is located more than 100m from the nearest serviceable road.
Placing Bins
Please place your bins kerbside with the wheels facing the house and clear from any obstructions (e.g. trees, letterboxes, cars).
How to Position Your Bin for Collection Day - Factsheet
How to Prevent Odour Nuisances from Wheelie Bins
Please don't overfill you bins or place rubbish on top or next to the bin - overflowing bins will not be serviced. And please make sure food scraps and any other wet waste is adequately wrapped in paper or plastic.
Wheelie bin requests
To request a new or an additional wheelie bin service, a Change of Kerbside Garbage Service Request form needs to be submitted to Council.
To request a cancellation of a wheelie bin service, a Change of Kerbside Garbage Service Request form needs to be submitted to Council. Upon cancellation of a service, wheelie bins must be presented for collection. If they are not made available for collection, a replacement fee must be paid.
Cancellation of wheelie bin services will only be approved in the following circumstances:
Request is for cancellation of additional services.
Cancellation is for a property which has undergone a demolition or house removal and has final building and plumbing and drainage inspections approved.
To request a wheelie bin repair or replacement caused by wear and tear, phone Council's customer service department on 1300 763 903.
Wheelie bins remain the responsibility of ratepayers. Should a bin go missing, should it be stolen or damaged due to events other than general wear and tear, a replacement wheelie bin fee will be charged.
Community Composting Program
Receive a $20 Rebate when You Buy a Compost Bin or Worm Farm
Waste Transfer Station Information
See our Waste Transfer Station page for locations, operating hours etc.
Infirm Services
Council offers infirm garbage services for those who are unable to, or do not have the support to place their bins out for collection. This service is offered free of charge with Council covering the additional costs. To qualify for this service residents need to demonstrate that they are unable to take the bins out themselves and that they do not have family, friends or other support to take the bins out.
If the application is approved the garbage truck driver will remove the bins from the front of the property, empty them and return them to their original position. All applications require medical sign off and are reviewed on a regular basis.