Go Cashless
CASSOWARY COAST, ARE YOU READY TO GO CASHLESS?
From 1 July 2022, Cassowary Coast Regional Council will go cashless. This means we will not be able to process any cash or cheque payments at Council facilities*. You will still be able to pay using EFTPOS, Visa and Mastercard.
*Waste Transfer Stations will still accept cash payments.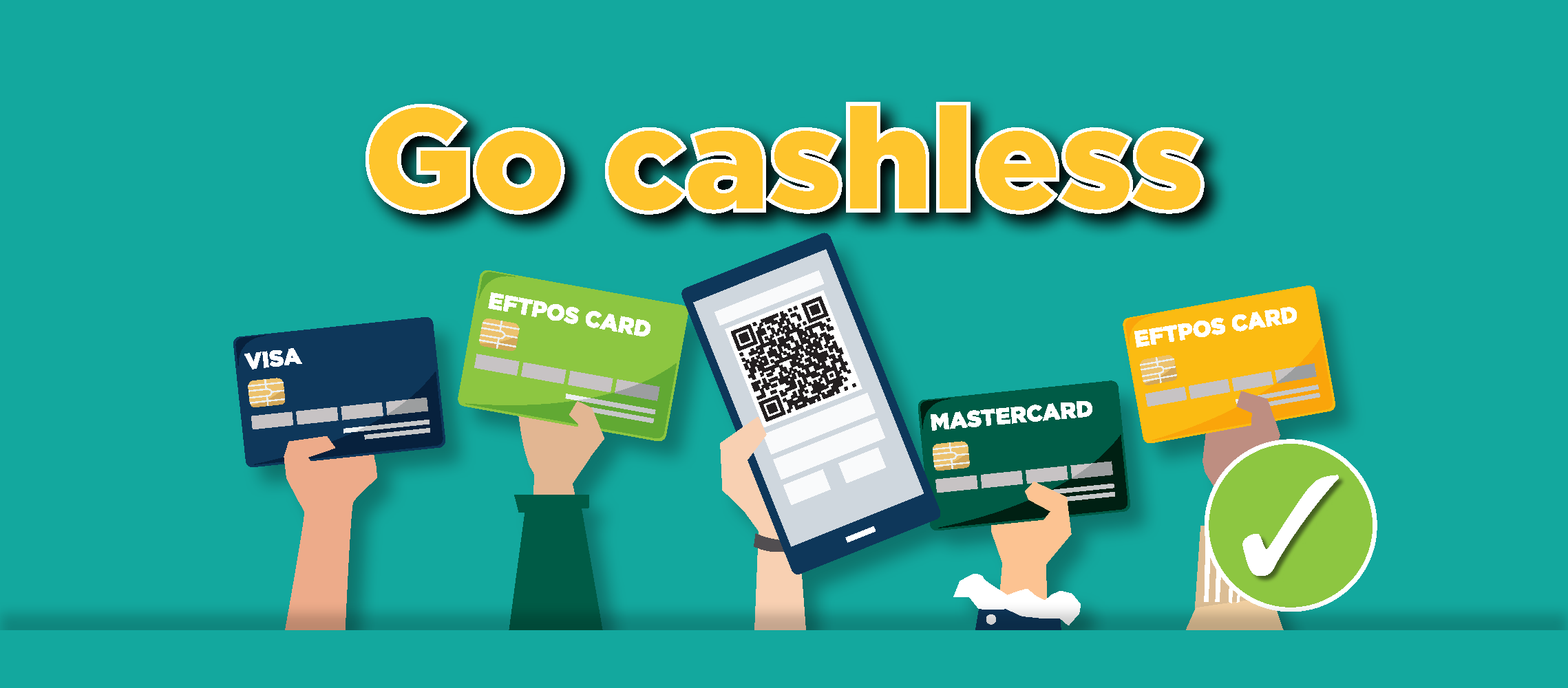 This means that Council will no longer accept payments by cash or cheque at our Customer Service Centres, and other Council run facilities*.

*Waste Transfer Stations will still accept cash payments.

From 1 July 2022, Cassowary Coast Regional Council will be completely cashless*.

This means, all payments at our Customer Service Centres, Libraries, Events and other locations will offer payments using EFTPOS, Visa, Mastercard (no more cash or cheque payments).

Merchant fees for credit card payments are not charged by Council.

*excluding waste transfer stations.

We do not charge merchant fees, so you will not be charged a fee when you make a payment to us by Visa or Mastercard.

Over time we are seeing less cash payments being made over the counter.

Moving to 'cashless' creates operational efficiencies, which allow resources to be focused on other Council services which benefit our community. There are also other benefits such as reducing the levels of risk associated with workplace safety and hygiene.

Yes, Organisations, such as Council are able to set the terms of payment for services provided; this includes restricting payment by cash or cheques at their facilities.

You can pay using the automated telephone service by calling 1300 763 903.

You can set up a direct debit for rates payments.

You can pay over the counter at all Council facilities by using EFTPOS or credit card. There are no transaction fees charged by using this service.

Rates

Payment via the Online Portal

To make payment through the MyCouncil online platform, please click here Payment Portal. You will need your Customer Reference Number located on the front of your rate notice.

Payment by Telephone and Internet Banking – BPAY

Contact your bank or financial institution to make this payment directly from your cheque, savings, debit, credit card or transaction account.

Please quote the Biller Code and Reference Number as shown beside the BPAY logo on the front of your notice. Please refer to your bank or financial institution for cut-off times for the processing of payments. Further information can be obtained from www.bpay.com.au.

Registered to BPAY Pty Ltd ABN 69 079 137 518

Payment by Australia Post

Payment can be made by presenting your notice at any Australia Post outlet, calling 13 18 16 or using the internet at www.postbillpay.com.au. Please quote the Billpay Code and the reference number as shown on the front of your notice.

Payment by Telephone and Internet – Bpoint

BPoint Telephone

Call Cassowary Coast Regional Council on 1300 276 468 to make this payment from your Mastercard or Visa. Please quote the Customer Reference Number located on the front of your notice.

BPoint Internet

You can pay your rates online through Council's BPoint Service using Mastercard or Visa.

Council notices such as dog registration, fines etc.

• BPAY from your cheque, savings, debit, credit card or transaction account.

• Credit Card payment online or over the phone via automated telephone service.

Applications

• BPAY from your cheque, savings, debit, credit card or transaction account.

• Credit Card payment online or over the phone via automated telephone service.

Plant nursery

• Payments utilising EFTPOS over the counter.

Libraries

• Payments utilising EFTPOS over the counter.

Events

• Payments utilising EFTPOS on the door.

• Purchase your tickets via TryBooking.

Did you know that Cassowary Coast Libraries have public access computers, which you can use for FREE?

Visit any of our four libraries to access. For more information on Library locations visit, https://cassowarycoast.spydus.com/