Regional Arts Development Fund (RADF)
The Regional Arts Development Fund (RADF) is a partnership between state and local governments which invests in quality arts and cultural experiences across Queensland based on locally-determined priorities.
RADF 2020-2021 program promotes the role and value of arts, culture and heritage as key drivers to support diversity and inclusivity; grow strong regions; and provide training, education and employment opportunities for Queensland artists and local communities.
Councils deliver locally-tailored RADF programs based on the identified priorities, opportunities and capacities of their local communities. This means that what RADF delivers may appear to be different in different localities as it responds to the aspirations of local communities and the ways they work.
What can I apply for?
Quick Response Grants
Projects requesting funding under $1,000 can apply for a Quick Response Grant. These are available all year round or until all funding has been allocated. Please contact the RADF Liaison Officer (Kath Hansen) email: cdo@ccrc.qld.gov.au to first discuss your project and then be forwarded an application form.
Community Grants
Projects requesting funding over $1,000 can apply for a RADF Community Grant, with two funding rounds held each year as advertised. Grants are generally capped at $5,000 however larger requests for projects evidencing significant community engagement, partnerships and outcomes are considered. These applications must be submitted as one document to:
Cassowary Coast Regional Council
PO Box 887
Innisfail Qld 4860
or email: enquiries@cassowarycoast.qld.gov.au
(Please DO NOT forward final applications directly to the RADF Liaison Officer)
Funding exists for innovative and collaborative arts projects that create a vibrant and interactive arts sector in the Cassowary Coast region.
ROUND 1 - Closing Friday 30 October 2020 at 4:30pm
For projects not commencing before Monday 30 November 2020
ROUND 2 - Closing Friday 26 March 2021 at 4:30pm
For projects not commencing before Monday 26 April 2021
Application open dates to be advised.
QUICK RESPONSE GRANTS - Available all year round until allocation has been expended - Capped at $1K.
For the best opportunity to secure funding please contact Kath Hansen, RADF Liaison Officer on 4030 2255 prior to submitting your application.
What are the RADF 2020-21 objectives?
RADF 2020-2021 objectives are to:
1. Provide public value for Queensland communities
2. Build local cultural capacity, cultural innovation and community pride
3. Deliver the Queensland Government's objectives for the community
RADF 2020-21 Key Performance Outcomes (KPOs)
All project managers receiving RADF 2020-2021 funding are required to report on their contribution using RADF 2020-2021 Key Performance Outcomes (KPOs).
IMPACT
RADF invests in a diversity of local arts and cultural projects
RADF engages local communities in arts and cultural activities
RADF supports local employment and strengthening the local arts sector
QUALITY
RADF supports quality arts and cultural initiatives based on local priorities
Local communities value RADF
REACH
RADF supports engagement with new and diverse artists, audiences and communities
RADF contributes to diversity and inclusive communities; growing strong regions; and providing training, education and employment
VIABILITY
RADF builds strong partnerships between arts and non-arts sectors
RADF leverages additional investment
RADF funding is used effectively and appropriately
Priorities for RADF funding
Council has developed an Arts and Cultural Plan. During community consultation while developing this plan, a series of priorities were identified:
Provide opportunities to showcase and contribute to high quality arts and cultural projects
Encourage, educate and increase opportunities to diverse sectors of the community to access, participate and appreciate arts and culture and heritage
Actively develop strong cultural partnerships and networks
Provide opportunities for artists and arts workers to develop their skills and knowledge to enhance the artistic and cultural capacity of our region
Develop sustainable career pathways and economic return for the Cassowary Coast cultural sector
Strengthening our cultural tourism
Provide opportunities to celebrate, showcase and share traditional knowledge of Aboriginal and Torres Strait Islander peoples
What are the acknowledgment, reporting and acquittal processes for RADF 2020-21?
All project managers of RADF 2020-21 funded activities need to complete a Project Outcome Report. The Project Outcome Report includes information about the success of your project, the budget and support material. The report needs to be submitted to Cassowary Coast Regional Council within 8 weeks of the project's completion.
Project Outcome Report - Public Project and Activities (for 2020-2021 projects only)
Project Outcome Report - for Professional/Career Development Activities (for 2019-2020 projects only)
RADF 2019-20 funded activities must acknowledge the Queensland Government and the Cassowary Coast Regional Council in all promotional material, publications and products. The Cassowary Coast Regional Council will supply RADF 2020-2021 acknowledgment text and logos.

For further information, contact RADF Liaison Officer Kath Hansen on 07 4030 2255, or email: cdo@ccrc.qld.gov.au
For information on other Arts Queensland programs and opportunities please visit www.arts.qld.gov.au
Cassowary Coast Regional Council RADF Committee 2017-2020
Wendy Sheils (Chair)
Sue Foley (Vice Chair)
Tricia Walker
Geoff Moffatt
Cr Trudy Tschui
Find out more about each of our RADF committee members.
Forms and Factsheets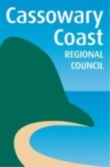 The Regional Arts Development Fund (RADF) is a partnership between the Queensland Government and Cassowary Coast Regional Council to support local arts and culture in regional Queensland.


Gumbugan Indigenous Arts Forum May 2019