Innisfail Library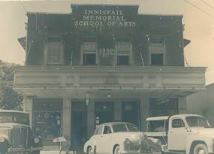 A subscription library existed in a timber School of Arts building at 11 Edith Street, Innisfail in 1899. An art deco building was constructed at this address and opened in August 1930 as the Innisfail Memorial School of Arts. The Johnstone Shire Council purchased the building and library and it was opened as the Johnstone Shire Municipal Library on the 1 November 1949.
The library continued to operate on this site until the building at 57-59 Rankin Street was purchased by Council in 1981 and refurbished to open as the Johnstone Shire Library on 13 November 1982.
In March 2006 Cyclone Larry damaged the library building and the contents were removed, dried and put into storage and the building sold. Allan Maruff house at 49 Rankin Street was identified as a temporary location, but this builidng had also been damaged in the cyclone and needed repair. From April 2006 to February 2007, the Library offered very limited service from the Shire Hall, with 3 bookcases and a trolley.
The building at 49 Rankin Street was originally built to house the Innisfail office of the Cairns Regional Electricity Board and was bought by Council from FNQEB in the 1980s for Home and Community Care services. It was posthumously named in honour of Dr Allan Maruff for his contributions to the community (Councillor 1976-9; pioneer of the tea industry; contributor to botanical research; local medical practitioner and work in tropical diseases; strong supporter of aged care services).
The building housed a variety of community services and Council's Community Services Department until Cyclone Larry in 2006. It was then repurposed as a temporary library, opening on 14 February 2007 and continuing to operate at that address as the Innisfail branch of the Cassowary Coast Libraries after the amalgamation of Cardwell and Johnstone Shires in 2008.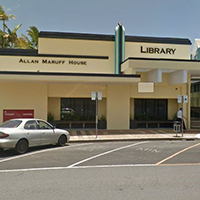 The replacement of the Innisfail Library was approved by Council and the library temporarily relocated back to 57-59 Rankin Street in May 2014 so that the redevelopment of Allan Maruff House could commence. The Innisfail Regional Library and Community Hub opened at 49 Rankin Street on 23 November 2015.
Part of the refurbishment was the installation along the walkway beside the library entrance of a photographic mural of local wildlife. A booklet on the mural, including a key to the all the animals depicted in it, is available in the library or by clicking here (21MB PDF document).