Museums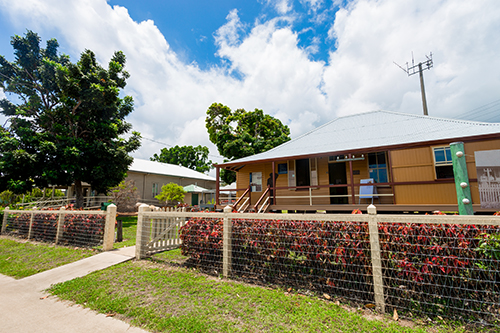 Cardwell Visitor & Heritage Centre - at the Historic Bush Telegraph
Cardwell has a heritage precinct made up of the Bush Telegraph (an historic post office and telegraph station, the J.C. Hubinger Museum, the old court house, gaol and shire hall. There is also a Visitor Information Centre in the museum, with up-to-date information on the Cassowary Coast region and nearby regions.
Location
51-53 Victoria Street (Bruce Highway), Cardwell, at the corner of Balliol St (map)
Ph: 07 4066 2412
Email: bushtelegraph@ccrc.qld.gov.au
Opening Hours
Monday to Friday 9am to 4:30pm
Saturday 9am to 1pm
Sundays and Public Holidays 10am to 1pm
Free admission (donations welcome)
Group/school visits encouraged - packages can be sent out for potential group visits
Guided or self-guided tours available
Parking in Balliol Street (room for coaches)
Wheelchair access
About the Bush Telegraph
The old Cardwell Telegraph and Post Office (now known as the Bush Telegraph) was built in 1870 and is one of the oldest buildings in North Queensland. It is listed on the Queensland Heritage Register, the Register of the National Trust and the Register of the National Estate of the Australian Heritage Commission.
The telegraph building harks back to Cardwell's earliest days. The old post office, courthouse, lock-up and shire hall tell the story of Cardwell and its vital role in the development of North Queensland. The old hall was badly damaged by Cyclone Yasi in February 2011 but has been lovingly restored.
The buildings were officially opened as a heritage centre in 2003.
Exhibits give visitors an insight into how a telegraph station worked, how we used to communicate and how towns operated in early North Queensland.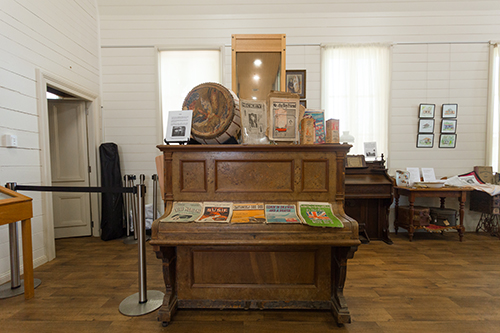 Things to Do
Visitors can send a morse code message or 'race to the top of Australia' in the Journey Room. They can look at old weather instruments and get a feel for the early judicial system in the courthouse and lock-up. School groups are given activity sheets. Themed kits are available for organised group visits.
J.C. Hubinger Museum
The J.C. Hubinger Museum, a heritage-listed building, dates back to 1892 and was originally the Cardwell Shire Hall and centre of shire administration.
Outdoor Museum Display
Visitors can see a springcart, a dray and horse-drawn equipment as well as many smaller tools and gadgets such as cross-cut saws, carbide lamps, a milk separator and spraying gear. A volunteer is on hand most mornings to talk to visitors if they want more information about the display. The collection can also be viewed from outside the mesh gates.
Art Gallery
The recently refurbished old School of Arts building dates back to 1923. This is the home of the Hinchinbrook Regional Arts Gallery.