Employment Opportunities
Working at Cassowary Coast Regional Council
It is an exciting time to be part of the Cassowary Coast Regional Council, our commitment to a shared set of values offers great experiences through the building of a dynamic and inclusive workplace and community culture.
Council has released the 2021-2025 Corporate Plan - the overarching vision for the Cassowary Coast region is 'to provide great experiences, deliver value and create a sustainable future for their community.' By 2025 the goal is regional infrastructure that delivers appropriate levels of service supported by the community and to be financially sustainable.
With this philosophy in mind, Cassowary Regional Council is proud to provide our employees with excellent employment conditions and benefits that encourage employees to manage a healthy family/work life balance, including:
Generous leave

5 weeks annual leave
17.5% annual leave loading
15 days personal (sick/carers) leave
Early access to Long Service Leave (pro rata after 7 years service)
Rostered Days Off

Up to 12% Employer Superannuation with LGIA Super (or your own choice of fund)
Learning and development opportunities
Employee Assistance Program which is also available for family members
Access to discounted health insurance
Salary packaging opportunities for vehicles, rent, mortgages and utilities through Salary Packaging Australia
Membership to Fitness Passport Wellness Profram for individual and families
Flexible working arrangements
Click here to view all Positions Vacant
Council's Core Values
Cassowary Coast Regional Council is committed to working as one to realise our vision of 'One Coast: Cassowary Coast' to ensure great experiences, deliver value and create a sustainable future for our community.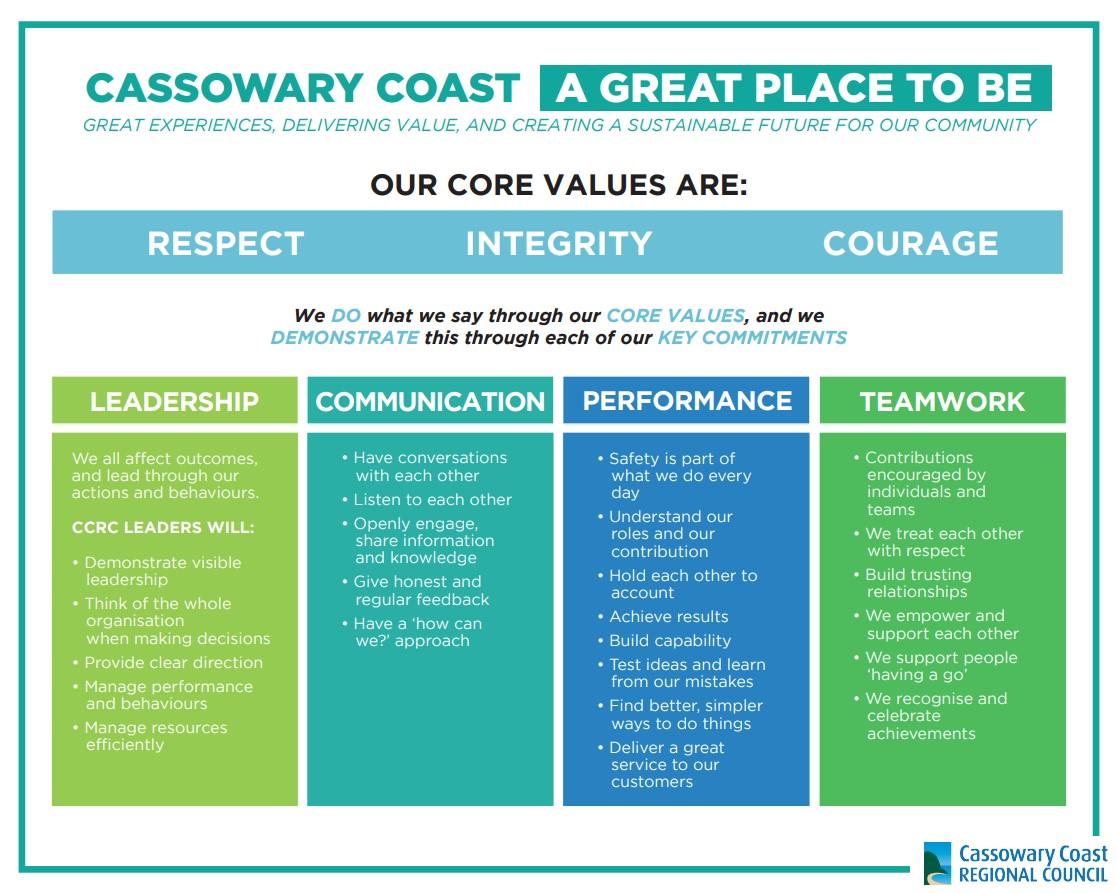 Joining our Team
Employment opportunities are advertised regularly on our Positions Vacant page.
To apply for an advertised role with Council, you should review the information provided in the advertisement and the position description, and submit your application in the following format:
Cover Letter (no more than 3 pages) addressing the Selection Criteria and the reason you are the 'best fit' for this role; and
Resume - outlining your experience and relevant skills/qualifications
Shortlisted applicants will be invited to an interview and unsuccessful candidates will be notified via email.
If you are selected as a preferred candidate you will be required to participate in pre-employment testing, which may include a drug and alcohol test, criminal history check and functional assessment.