Beach/Esplanade Protection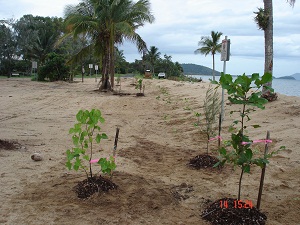 The Cassowary Coast is known for its many picturesque beaches - and we want to keep them looking this way for residents, tourists and wildlife.
There are a number of ways we keep our beaches and foreshores in good condition.
It is an offence to remove or damage any vegetation on beaches, foreshores, river esplanades, roads or other council-controlled land. Similarly, disposal of green waste such as lawn clippings, palm fronds, coconuts and other material is not permitted on council land.
Pedestrian access to the beach is via the designated access points. Designated beach access points help to minimise damage to the fragile beach dune environment so please use them.
Vehicles are not permitted to be driven on the beach, foreshore and foredunes. In locations where beach ladders or beach ramps are provided to launch boats, vehicles can access the beach adjacent to the ladder or ramp for that specific purpose. After launching, vehicles must leave the beach.
For more information see Caring for Our Beaches.
To view Council's Master Plans and Strategies for the greater Mission Beach area please use this link.