Visitor Information Services Strategy
Purpose of the Review
Cassowary Coast Regional Council (CCRC) is reviewing the current operational framework of visitor information services and its four Visitor Information Centres (VICs). The findings will help formulate a new direction and strategy for an effective network of visitor touchpoints and benchmark visitor servicing.

The review is to examine how CCRC can maximise visitor engagement and reimagine its visitor services, assess the number of centres needed and how to optimise the locations or co-location of its VICs. It will explore the rise of digital options as a future alternative to physical centres or complement face-to-face advice for a holistic strategy of disseminating information and adding new experiences including Augmented Reality and Virtual Reality to the visitor experience.

The review draws on the collective insights of eminent research, benchmark examples, innovations and consultations with industry leaders. It also addresses the conventional passive model of VICs and considers the options for more commercial and active alternatives to increase interaction with visitors and influence greater exploration of the region, extended stays and increased expenditure.
Vision
The Cassowary Coast Regional Council will provide exceptional visitor services and be a destination of choice for visitors, event organisers and investors, resulting in increased economic and social benefits for our communities.
Objective
The objective is to define a clear and relevant role for visitor servicing, adaptable to innovations and equipped with relevant services that enhance a visitor's experiences of the region and contributes to the tourism economy and benefits for the community.
This visitor information services strategy is focussed on these key objectives:
Customer Experience
A holistic approach to connect visitors with experiences; provide local insights, accurate information and fulfilment with booking options.
Destination Role
Clear regional branding; expand visitor dispersal throughout the region; provide tourism data source; participate in VIC accreditation network.
Economic Benefits
Influence visitors experience of the destination, increase their length of stay and spend; promote visitor dispersal throughout the region.
Social Benefits
Local employment; engaging locals into the volunteer program.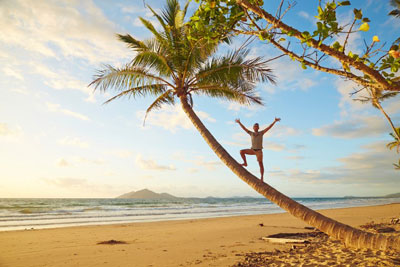 Consultation
TOURISM RESEARCH AUSTRALIA (TRA)
• TRA, November 2020 – National Visitor Survey and International Visitor Survey
• TRA, 2019 – Local Government Area Profiles, Cassowary Coast, Queensland
• TRA, 2015 – The Influence of Western Australian Visitor Centres on Tourist Behaviour
• TRA, June 2016 – Visitor Information Servicing in New South Wales
• TRA, October 2019 – The Beach, Bush and Beyond: Understanding Regional Dispersal of Australian Tourists
TOURISM & EVENTS QUEENSLAND
• Tourism & Events Queensland, March 2021 – Nature-based Tourism Strategy 2021-2024
• Tourism & Events Queensland, YE December 2018 – Queensland Visitor Information Centres Snapshot
• Tourism & Events Queensland, March 2018 – Tourist Visitation to National Parks
• Tourism & Events Queensland, 2019 – Accredited Visitor Information Centre Case Studies
• Tourism & Events Queensland, High Value Traveller Profiles (May 2018)
• Tourism & Events Queensland, A Way Forward for Queensland VICs
• Tourism & Events Queensland, VIC Directions – Executive Summary
Consultation on this strategy has included the following industry organisations and representatives:
• Tropical Coast Tourism
• Tourism Tropical North Queensland
• Tourism & Events Queensland
• Visit Queensland
• The Tourism Group
Strategic Priorities
Five strategic priorities have been identified to evolve the Cassowary Coast visitor information servicing model in alignment with the key strategy objectives. The Strategic Priorities and Actions are to be implemented in consultation with industry and community. Actions adopted by council can be prioritised for short to long-term planning and resourcing, and may be subject to a process of engagement with other key stakeholders.