Development Incentive Scheme
Activate Cassowary Coast - Development Incentive Scheme
The economic activation of the region is an essential element of the core business of Cassowary Coast Regional Council. In particular, Cassowary Coast Regional Council is committed to promoting and encouraging new forms of employment generating business and tourism activity to the region.
In order to promote and encourage such forms of development, Council has developed four development incentive policies to attract and provide support to projects and businesses that will deliver the greatest economic benefits to the Cassowary Coast and its residents in the long term.
A summary of the four development incentive schemes, relevant policies, guidelines and application forms are provided below: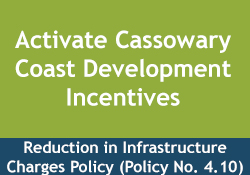 1. Reduction in Infrastructure Charges Policy (Policy No. PRD005)
The aim of this policy is to encourage development that achieves certain strategic objectives for the Cassowary Coast by allowing a reduction in the infrastructure charges payable of up to 100% in relation to certain types of development that are completed within three (3) years of the date of the approval taking effect.
Reduction in Infrastructure Charges Policy (Policy No. PRD005)
Reduction in Infrastructure Charges Application Form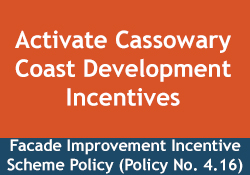 2. Façade Improvement Incentive Scheme Policy (Policy No. PRD001)
The aim of this policy is for Council encourage commercial building owners and business operators to invest in façade renovations and storefront improvements for their buildings by Council providing a fund to contribute to a portion of the renovation costs. Improving building facades can positively influence the perception of the Cassowary Coast and create a more inviting and interesting place to live, work, shop, dine, invest and experience. All improvement works must be external and visible from the street and local businesses and licenced tradespeople must be engaged to undertake the associated work.
Please note this policy is not currently active