New Residents
Welcome to the Beautiful Cassowary Coast Regional Council, Art Deco Capital of Queensland
The Cassowary Coast Regional Council is the local government authority for the region stretching from Innisfail in the north, through Tully and Mission Beach, to Cardwell in the south.
Situated in one of Queensland's most idyllic locations, the Cassowary Coast is well known as one of Australia's best winter destinations and a place of undiscovered playgrounds for thrill seekers and explorers alike.
The regions key economic drivers are primary production and tourism. It is central to beaches and the Great Barrier Reef, world heritage rainforest, art deco architecture and multiculturalism while boasting some of the world's most pristine waterways, including the Tully River.
The Council maintains a strong community and cultural development role in the delivery of local government services and Council's strategic plans are built on the pillars of Social, Economic, Environment and Governance.
Council Offices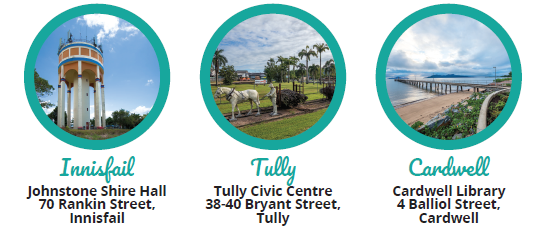 Rates Information
Rates notices are issued six monthly, at the end of January, due at the end of February, and again in early August, due early September. You have 30 days to pay the balance in full and when paid by the due date, a discount is allocated. Ratepayers have the option to make pre-payments in advance to their rate files if they wish. This can reduce the financial pressure of having to pay a lump sum at once when the notice is issued.
Should you need to update your postal address for service of Rate Notices, requests must be made in writing to Council. This can be done by completing this online form.
If you wish to sign up to have your rate notice emailed and have only recently purchased the property, you will need to wait to receive your first rate notice via post and then sign up for eNotices once you have your unique reference code, shown on the front of the Notice. Please note, the code shown on a copy of the Notice from the previous owner must not be used. Once you complete your registration you will no longer receive your rate notice via post.
Please visit our Rates Information page and Rates Frequently Asked Questions for more information and options on how to sign up for electronic Notices.
Access information on Payment Options.
Access a range of Rates Forms.
Waste Management
A standard residential refuse collection service is made up of a 140/120L wet waste bin collected weekly and a 240L dry waste bin collected fortnightly. Visit the Domestic Waste Collection Services page to find out which weeks you will need to put your bins out.
Disaster Information
To obtain information in relation to disasters, including Councils Disaster Management Plan, your cyclone guide, floods, storms and emergency contact, please our Disaster Information page.
Registering Animals
All dogs must be registered within the Cassowary Coast Regional Council once they reach 12 weeks of age and/or within 14 days of new ownership. Access more information on registering your dog.
Council Meetings
Council meetings, which are open to the public are on the second and fourth Thursday each month from 9:00am, alternating between Innisfail and Tully (unless otherwise advertised). For more information visit our Council Meetings page.