Domestic Waste Collection Services
Garbage Collection Service Days
There are two kinds of kerbside garbage bins; wet waste bin (red/blue lid) and dry waste bin (green lid). Wet waste bins are collected weekly and dry waste bins fortnightly.
Please use the search field below to identify which week you will need to put out two bins and which week you just put out one bin. Your area has been classified as either a week one or week two area in relation to bin collections. If you live on a street where bins are collected on multiple days, and you are not sure which day to put your bins out, please contact Council on 1300 763 903 or email enquiries@ccrc.qld.gov.au.
| House Number | Street Name | Locality | Postcode | Day | Week |
| --- | --- | --- | --- | --- | --- |
Dual Body Rubbish Collection Trucks
Kerbside side rubbish collection trucks have a spilt body compartment. This ensures that waste collected from wet and dry kerbside rubbish bins remain separated inside the truck.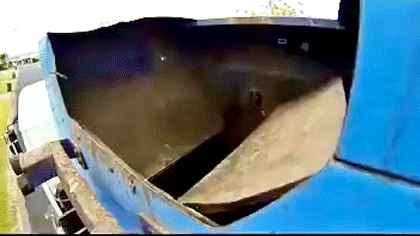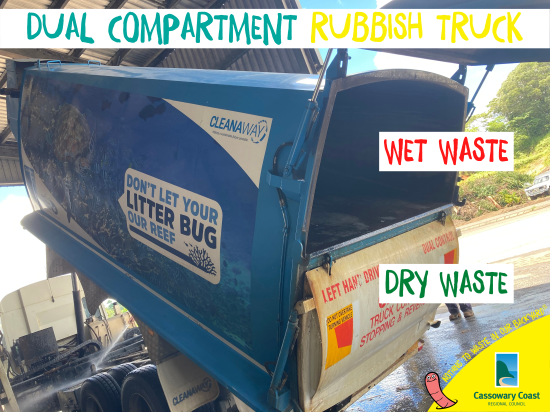 Your Bin - Your Responsibility
Kerbside bins are the responsibility of the property tenant, who are required to:
Place bin out before 6am on collection day.
Return bin to the property no later than 24hrs after collection.
Ensure bin is not overflowing and the lid can close – overloaded bins can cause damage to truck equipment and injury to the driver.
Place bins half a metre from the curb and one metre apart with the handle and wheels facing your house or property.
Ensure bins are free from obstruction such as low overhanging branches or power lines.
Ensure wet waste bin does NOT have any garden waste.
For more information on kerbside bin services, click below.
Upon the commencement of a registered property, Council provides the ratepayer with kerbside bins. The kerbside bins then become the responsibility of the rate payer. If the property is leased, bins then become the responsibility of the tenant.

Should a bin go missing, stolen or damaged due to events other than general wear and tear, a replacement wheelie bin fee may be charged.

To request a new or an additional kerbside bin service, a Change of Kerbside Garbage Service Request Form needs to be submitted to Council by the property owner only.

To request a wheelie bin repair or replacement caused by wear and tear, phone Council's Customer Service on 1300 763 903 and details will be provided to Council's contractor, Cleanaway who will provide that service.

To request a cancellation of a wheelie bin service, a Change of Kerbside Garbage Service Request Form needs to be submitted to Council. Upon approval of cancellation of a service, wheelie bins must be presented for collection. If they are not made available for collection, a replacement fee must be paid.

Cancellation of wheelie bin services will only be approved under the following circumstances:

Request is for cancellation of additional services.
Cancellation is for a property which has undergone a demolition or house removal.
Property is located more than 100m from roadside collection point.

Did you know that your household waste is collected by a garbage truck fitted with a mechanical arm, operated by a single driver from inside the truck?

The driver cannot leave the cabin to correct kerbside bin placement. Which means if your kerbside bin is not placed correctly on the day of collection, your bin will may not be emptied.

To ensure your kerbside bin is emptied, follow these simple guidelines:

Place your bin/s out prior to bin collection time i.e. the night before or morning of bin collection service and remove from kerbside within 24 hours of bin service.
Please place your bins kerbside with the wheels facing the property and clear from any obstructions (e.g. trees, letterboxes, cars).
Place your bins at least ½ metre apart on the kerbside. For rural residents, please place your bins 1 metre off the sealed road, well clear of traffic. When presenting two bins, place them at least 1m apart from one another.
If you live in a court/cul-de-sac, please take your bins to the nearest straight section of road, where they are easily accessed by the collection vehicles.
Do not place bins behind parked vehicles.
Do not place bins under low overhanging branches or power lines.
Ensure that the lid of the bin is closed properly.
Do not overload your bins. Bins can be damaged if overloaded and will NOT be collected if they exceed 60 kilograms in weight. Please remove material prior to the next collection.
Do not place rubbish on top or next to your kerbside bin.
No regulated, hazardous waste or large objects are inside your bin/s.
Use correct bin for Wet and Dry waste.

Organic waste can attract maggots and flies and leave an unpleasant sight and smell in your kerbside bin.
Here are some quick tips on how to prevent maggots and odour nuisances.
Ensure you:

Wrap your meat/fish scraps in a sheet of newspaper before putting them in your bin.
Freeze your meat/fish scraps until collection day.
Rinse your wheelie bin with a mild detergent (vinegar) & water.

If you have maggots in your bin, try the following:

Open the lid to allow birds to eat the maggots.
Spray the top and inside with vinegar.

Unable to take out the garbage bins yourself and don't have anyone that can do it for you?

Council offers infirm garbage service free of charge, for those who are unable to or do not have the support to place their garbage bins out for collection. To qualify for this service residents need to demonstrate that they are unable to take the bins out themselves and that they do not have family, friends or other support to take the bins out.

For an approved assisted household waste removal service garbage truck driver can remove the bins from the front of the property, empty them and return them to their original position. All applications require medical sign off and are reviewed on an annual basis.

Download - Application for Assisted Household Waste Removal Service.

When property tenancy/owners change, all kerbside bins must remain at the property. Council is not responsible for providing new kerbside bins if at the time of change over the bins are missing.

Before occupying the new property Council recommends checking:

Correct bins are present
Correct service/s provisions are in place