Roads
The Cassowary Coast region has a 1550km road network, with about 1200km of council-owned and managed roads. The remainder are state-controlled roads, owned and managed by the Department of Transport and Mains Roads. Council manages roads through a hierarchy which defines the level of service applied to each road. Council owns and maintains 169 bridges and 139 major road culverts throughout the road network.
Unsealed Roads
Cassowary Coast Regional Council is responsible for maintaining over 514 km of unsealed roads and has annual budgets of approximately $1.8 million dedicated to unsealed road re-sheeting. Unsealed roads are a highly dynamic asset as the condition of the road can change rapidly due to traffic movement, weather, and variability in terrain. Soil types and gravels also add to the complexity of maintaining unsealed roads.
For more information click here: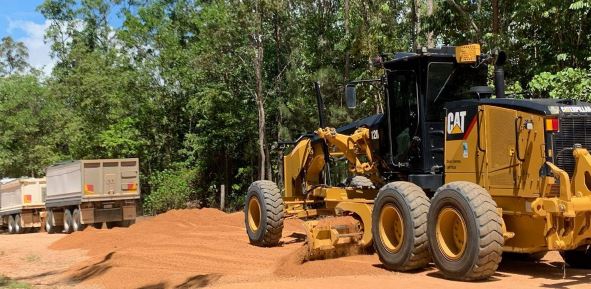 How to report a damaged road
Before reporting a damaged road to us we ask that you first check to see who the road maintains the road, by using the search tool above. Although we are responsible for maintaining main roads in the Cassowary Coast, there are many major roads in the region that are under the responsibility of Transport Main Roads.
You can check who is responsible for a road in our region by visiting Transport Main Road Roads. If the road is maintained by Council, you can report an issues on our Online Request Form for Road Maintenance.
Types of repair we perform
Pot holes
Damaged street furniture (bench seat)
Sign posts (not light & telegraph poles)
Damaged or uneven footpaths
Damaged or uneven kerb and channel
Damaged road surface (depressions, collapse, damaged speed humps)
Prepare the following before you report
The location of the issue – near which intersection/landmark.
Whereabouts on the road - edge, shoulder, centre, runs the width / length of the road?
The date and time of when the issue occurred.
Other details that will assist us with your specific issue.
Council has approximately 70 km of footpaths, which include shared paths and off-road cycleways. Most of these pathways give residents access to well-used facilities such as shops, schools, hospitals and tourist destinations.

In July 2017, Council adopted the CCRC Pathway Implementation Plan (PIP) to guide Council's investment into the expansion of its pathway network. The Plan identifies and prioritises the provision of new pathways within the region to achieve the greatest community access outcomes while still recognising the longer term aspirations of the community.

If you live on a state-controlled road please contact the Department of Transport and Main Roads (DTMR) on (07) 4045 7144 or via their website. More information may be found on DTMR Form 5082 – Road Works/Road Access Works in a State – controlled Road.

State-controlled roads in the Cassowary Coast region are:

Bruce Highway
Palmerston Highway
Henderson Drive
Boogan Road
South Johnstone Road
Tully-Mission Beach Road
South Mission Beach Road
Murdering Point Road
El-Arish Mission Beach Road
Silkwood-Japoon Road
Davidson Road
Tully Heads Road
Mourilyan Harbour Road
Innisfail-Japoon Road

Council has 169 bridges and 139 major road culverts which have a total length of 3km. From the 169 bridges there are:

91 concrete bridges
47 timber bridges
31 composite (mixed material) bridges

These bridges range in length from 5 meters to 160 meters. The range of bridges by length are:

< 10 metres - 49 bridges
10 - 20 metres - 79 bridges
20 - 30 metres - 17 bridges
> 30 metres - 23 bridges
Council's Road Recovery Program
Resources
| # | Name | Size | File Type | Download |
| --- | --- | --- | --- | --- |
| # | Name | Size | File Type | Download |
| --- | --- | --- | --- | --- |