Contact Council
Call:
1300 763 903 (for the cost of a local phone call if you are using a landline)
Write:
Please address all correspondence to:
Andrew Graffen, Chief Executive Officer
PO Box 887
Innisfail, QLD 4860
Email:
enquiries@cassowarycoast.qld.gov.au alternatively you can;
Have Your Say on current Council projects.
Make a Request by clicking on the relevant issue.
You can also contact a councillor.
Visit Council
Cassowary Coast Regional Council has three Customer Service Centres across the region. Specially trained staff can provide information and advice on topics including:
local laws and compliance

rates enquiries

account payments (EFTPOS facilities available)

animal registration.

Customer Service Centres and opening hours:
Innisfail

Shire Hall
70 Rankin Street
Innisfail

Monday, Tuesday, Thursday, Friday
8:30am - 4:30pm
Wednesday
9:30am - 4:30pm

Tully

Tully Civic Centre
38-40 Bryant Street
Tully

Monday, Tuesday, Thursday, Friday
8:30am - 4:30pm
Wednesday
9:30am - 4:30pm

Cardwell

Cardwell Library
4 Balliol Street
Cardwell

Monday

10:00am - 5:00pm

Tuesday

9:00am - 1:00pm and 2:00pm - 5:00pm

Wednesday and Thursday

9:00am to 5:00pm

Friday

Closed
Christmas Closures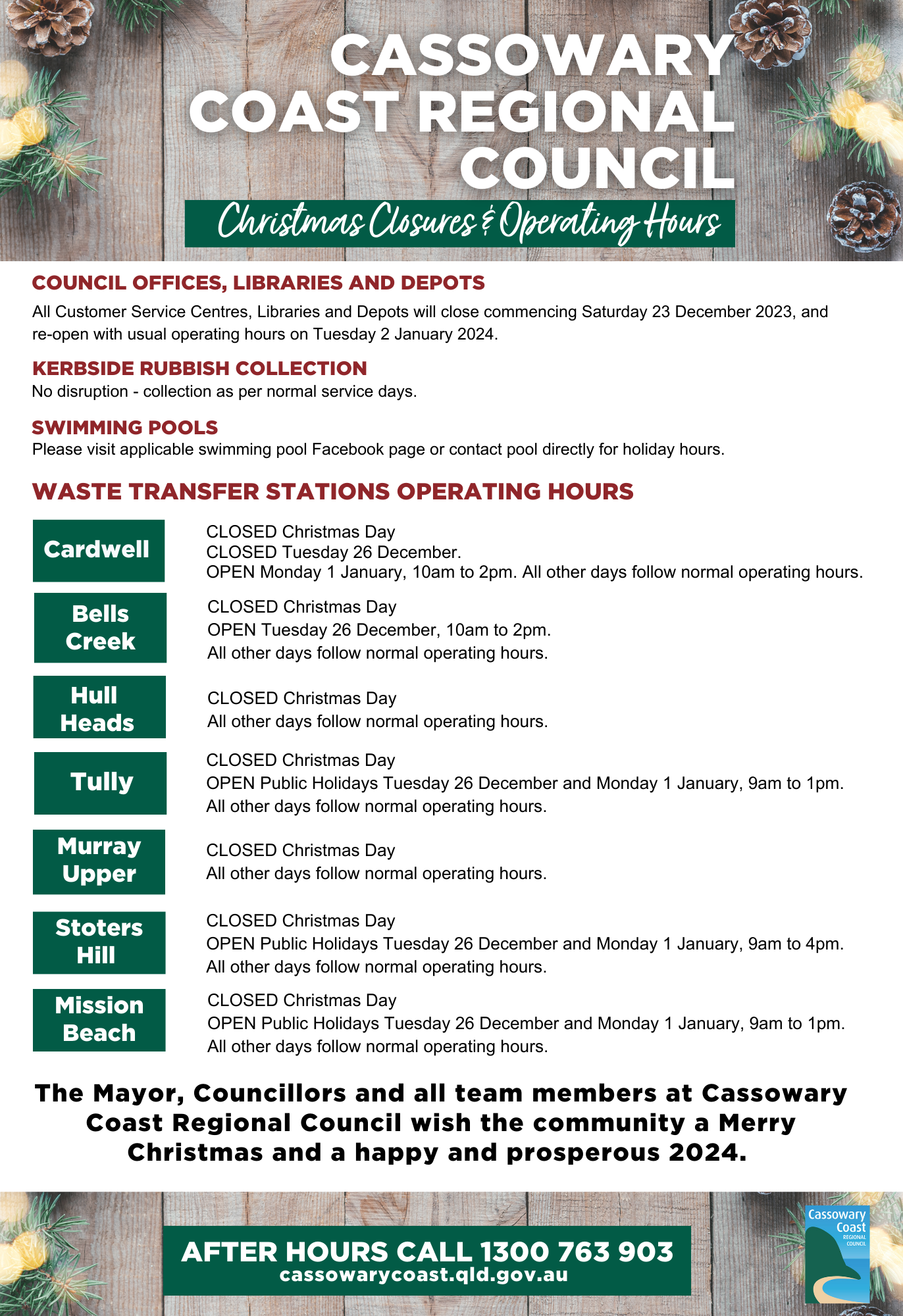 ABN
20 889 787 211
Privacy Notice
Cassowary Coast Regional Council respects your privacy and is collecting your personal information and your comments for the purpose of improving Council operations and service to the general public. The collection of this information is not authorised under any particular legislation. Your personal information will not be disclosed to any other person or agency unless you have given your permission or Council is required to do so by law. You may apply to access this information on the appropriate form obtainable from Council website at any time.