Pump Tracks
Cassowary Coast Regional Council has two pump track facilities in the region.
Grab your scooter, BMX bike, skateboard or mountain bike and head down to the either Pump Track, located on Brasenose Street Cardwell or at the Warrina Lakes Parklands. Both locations were built by World Trails and aim to attract the attention of riders of all abilities and experiences. The facilities accommodate for riders of all abilities to practice and perfect their skills.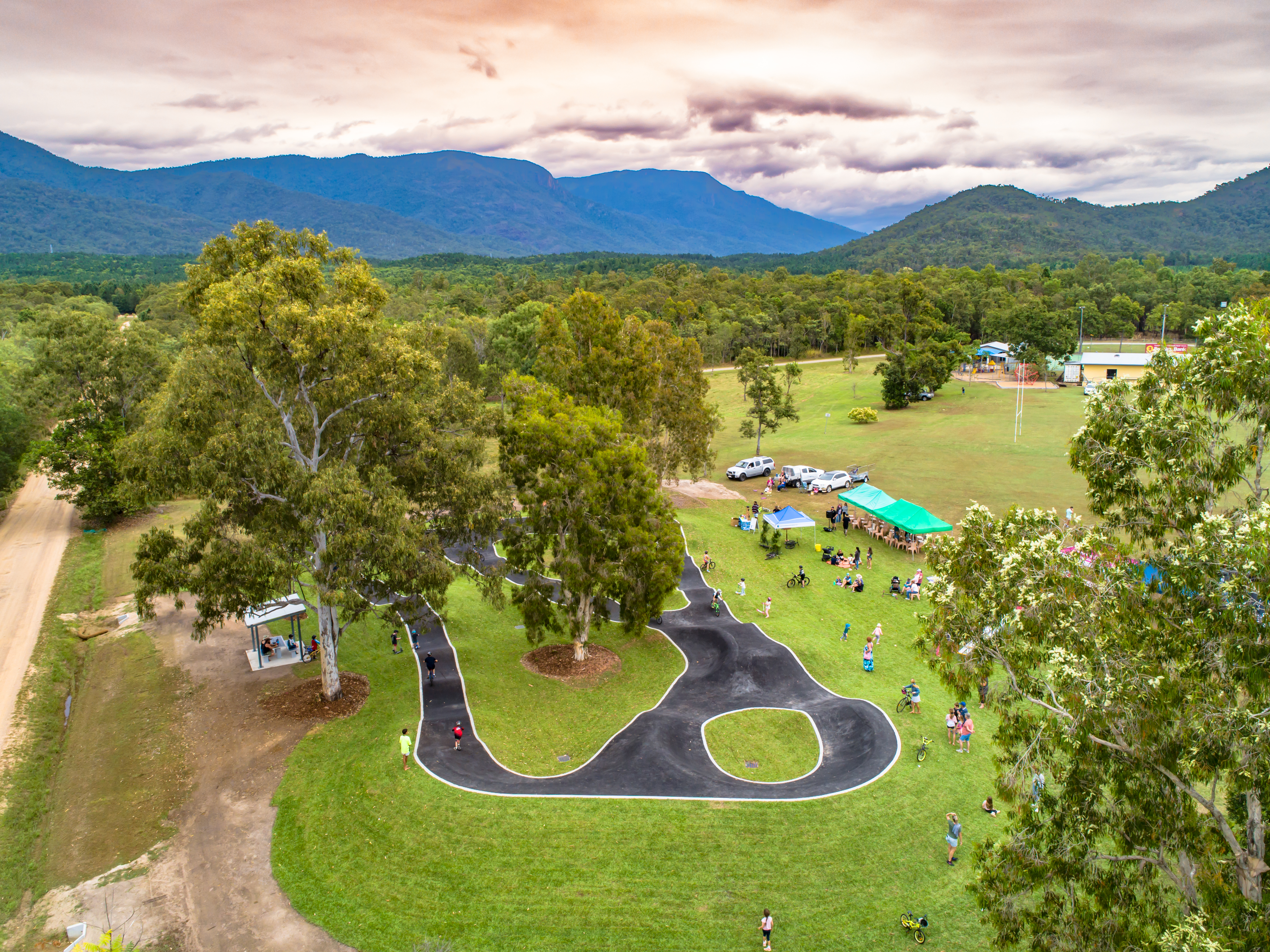 Pump Track locations
Grab your scooter, BMX bike, skateboard or mountain bike and head down to the Cardwell Pump Track, located on Brasenose Street Cardwell. Built by World Trials, the Cardwell Pump Track is one of the largest aims to attract the attention of riders of all abilities and experiences. It is a great facility for riders to practice and perfect their skills in anticipation for the opening of the Cardwell Tropical Mountain Bike Trail Project.

Address
Facilities

Carpark
Upgraded bathroom facilities
Bike wash
Signage and promotional material

Warrina Lakes Pump Track is unqiue, featuring a smaller track for beginners and a larger track that includes rollers and large berms, multiple transitions, dragon back, and doubles.

This pump track engages all riders of all abilities from beginners to the more experienced.

Warrina Lakes is a great facility for a family fun day out, such as: a car park, playground, bathroom facilities, seating and ,picnic areas as well as promotional signage.

Address 35 Emily Street, Innisfail, 4860.

Warrina Lakes Botanical Garden (click here for google map)
Frequently Asked Questions
A pump track is a small circuit with feature like rollers and berms that you can ride continuously without pedaling. Your speed along the pump track is dependent on your ability to gain momentum by "pumping" the tight terrain transitions of the track.

All ages and skill levels can learn in the same location. With a focus on developing technical mountain biking skills in a small amount of space, pump tracks are not too intimidating for a beginner or too easy for a professional rider.

Riders of all ages can come on the weekends and stay for hours on end. On the whole, people come together here to enjoy utilizing the pump track and in doing so create a unique social setting for building friendships and new acquaintances.

Pump tracks use a design that naturally encourages learning.

Well engineered pump tracks are built to naturally encourage learning important skills in a safe environment. The design will use unique and helpful features that allow kids and adults of all skill levels to enjoy the track, with reduced fear of injury.

Pump tracks are a fun and exciting riding space that fosters important skill-building.

A place of learning safe from vehicles and the main highway that runs through Innisfail. Pump tracks are located away from traffic, making it a safer space to develop biking skills than other areas where riders share the road.

Mountain Bikes
BMX Bikes
Balance Bikes
Children's Bikes
Scooters
Skateboards
Roller Blades
Longboards

The Warrina Lakes Pump Track project was made possible through $400,000 funding from the Australian Government through the Local Roads and Community Infrastructure Program. This program supports local councils to deliver priority local road and community infrastructure projects across Australia.

Funding for the Cardwell Pump Traclk was provided from the Commonwealth of Australia to the State of Queensland under the Federal Funding Agreement – Environment.