Waste Fees and Charges
In a bid to curb the region's waste to landfill, as of 1 July 2023, Cassowary Coast Regional Council will implement charges for domestic dry and wet waste at Council's Waste Transfer Stations.
The new charges aim to reduce the amount of waste going to landfill by encouraging residents to rethink what they are throwing out and 'sort it, load it and recycle it' to avoid additional costs and support our community's efforts to reduce landfill and protect our environment.
Please note, EFTPOS is available at the following Transfer Stations:
Stoters Hill Waste Transfer Station
Mission Beach Waste Transfer Station
Cardwell Waste Transfer Station
Bells Creek Waste Transfer Station
Tully Waste Transfer Station
EFTPOS is not available at Hull Head Waste Transfer Station and Murray Upper Waste Transfer Stations.
Waste disposal fees
You can view waste disposal fees below for all domestic users: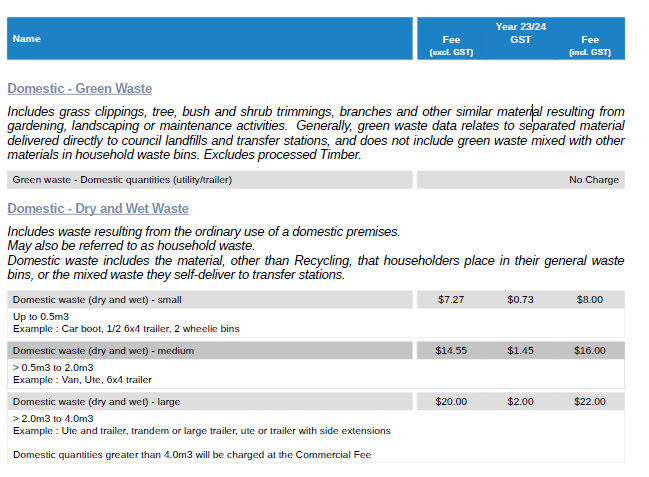 Sorting your load
We have five waste and recycling facilities. Each provides opportunities for our community to help recycle, recover and reuse waste items.
Council encourages residents to separate recyclable, reusable and recoverable items before loading their vehicle to drop off waste. Keeping recyclable goods separate from wet and/or dry waste will make it safer and easier to unload waste when you get to the site, and will also ensure you are charged correctly.
If a load is not sorted, it can be difficult for Council operators to see how much and what types of materials are in the load. Customers are charged a fee for waste that they dispose of into wet or dry bins. Dropping off majority of reusable, recyclable or recoverable items is free. Doing the right thing and sorting your items before you leave home makes it easier to see what will be recycled and what is waste. This allows our operators to charge appropriately and keeps your disposal fees as low as possible. Sorting your load helps the environment and saves you some money!
At waste transfer stations across the region, different waste types have designated areas at the site where they need to be unloaded. Batteries, electrical appliances, e-waste, furniture, cardboard and green waste can all be recycled at our waste and recycling facilities.
The wet and dry bins at waste transfer stationsshould only be used for those items that can't be reused, recycled or recovered and need disposal. Wet Waste can only be disposed of at Tully or Stoters Hill Transfer Stations.
When sorting materials, our community is asked to consider if items can be recycled or repurposed for another community member to use as recyclables left at the Reuse Shops are free for others to take, further reducing the amount of waste going to landfill
Don't forget to restrain and cover the load before leaving home. Pack things tightly, use boxes and bags for small items and use a tarpaulin or cargo net as well as straps to secure the load.
Payment options
You can pay for waste disposal by:
debit and credit cards (Visa and Mastercard only); and
cash.
Commercial operations will continue as usual.
We cannot accept debit or credit card payments over the phone.