Asset Management
Cassowary Coast Regional Council manages assets with an approximate replacement value of AU $1.8 billion spanning all traditional local government types including roads, bridges, footpaths, stormwater, water, sewerage, parks, buildings, waste, marine facilities, fleet and information technology.
Council has adopted an Asset Management Policy and Strategic Asset Management Plan that provide strategic guidance and direction for Council in regards to Asset Management.
Council's adopted core Asset Management Plans for every asset class are available for download at the bottom of the page.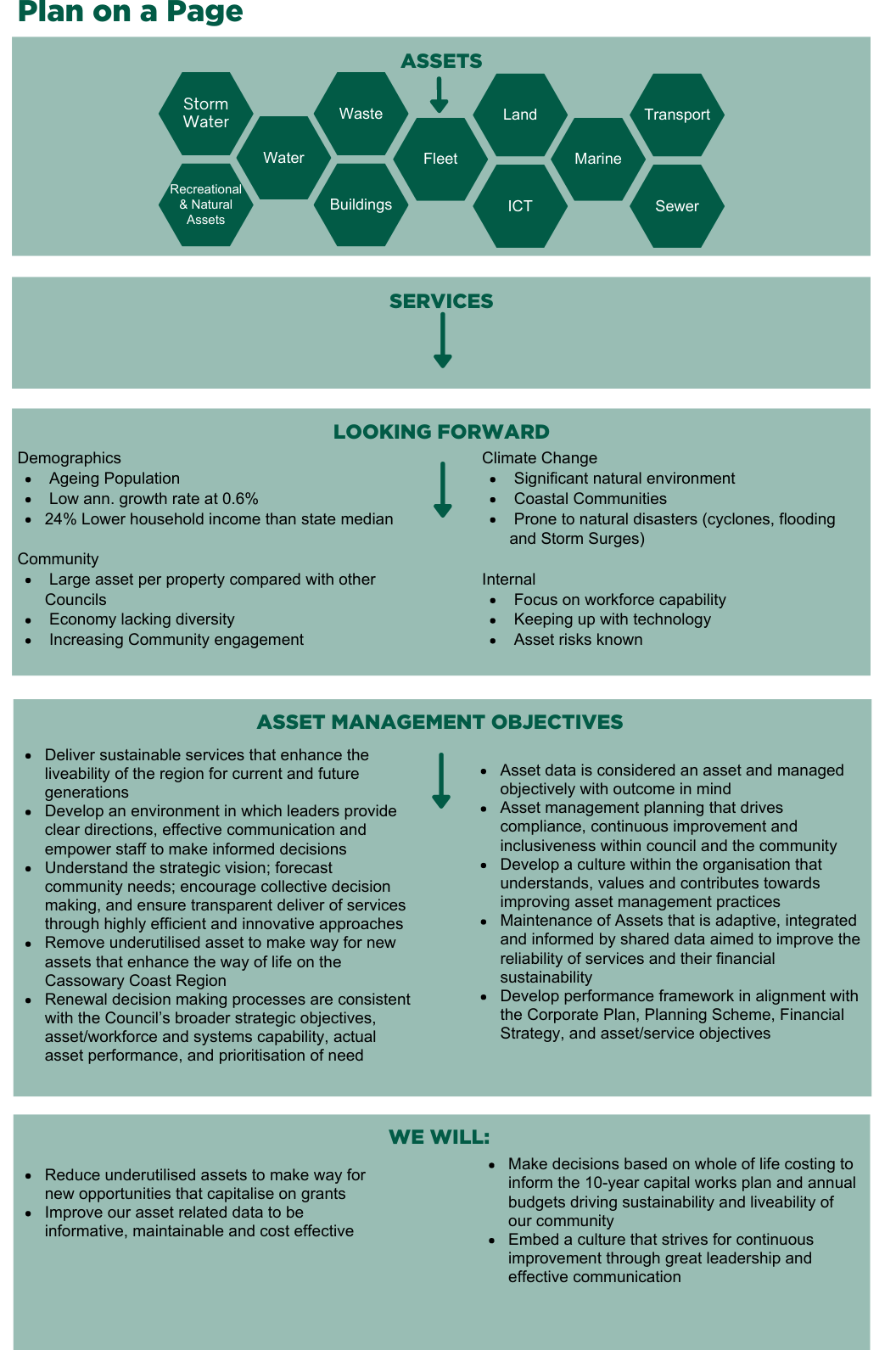 Asset Rationalisation
Council has commenced the Asset Rationalisation project to achieve its commitment to ratepayers to generate savings by rationalising some assets that are unused or underutilised. Through a methodical and inclusive approach Council is engaging key stakeholders to determine a better way of achieving improved outcomes for the community, for relevant user groups and for the ratepayer.
If you want to learn more about this project view the Project Summary Project Summary document.
If you have specific questions about the project view the Frequently Asked Questions (FAQ) document.
The work undertaken by the Cassowary Coast Community Consultative Group has enabled broader community feedback on the rationalisation project to be gathered. This information along with information from user group meetings and surveys, and officer's knowledge has been collated and Council is now in a position to consider a number of assets for rationalisation.
Council has made a resolution to Support the rationalisation of the following assets:
Demountable building Warrina Lakes;
Change all 'F' Class gravel roads to tracks;
Innisfail Racing Infrastructure;
Innisfail Fishing Club;
Daradgee Wharf;
Tully Gem Club;
Transfer ownership of Caravan Park building assets to lessees;
King Ranch Cultural Theatre;
Innisfail Men's Shed + BMX Track;
Covered car parking - Cnr Grace and Owen Streets, Innisfail;
Innisfail Cultural Complex;
Dalrymple Esplanade path;
Lihs Road Tennis Court;
Mullins Hall;
Old Tully VIC (CRACA);
Silkwood Tennis Courts and Buildings;
Employee Housing;
Enforce lease conditions;
Stoters Quarry
Callendar Park Accommodation Building;
Callendar Park Isolated Toilet Block;
Innisfail Dance School Building;
Girl Guides - MARCS Park;
Girl Guides - Tully;
Goondi Sports;
Mission Beach Progress Hall;
Mourilyan Kindergarten;
Innisfail Pipe Band Building;
Rotary Building - Tully Showgrounds;
Rowing Club Innisfail;
Tully Scouts Building.
For each asset in the list, a Recommended Rationalisation Approach has been provided in the follow 2 reports:
Now that Council has resolved to adopt the recommended rationalisation approach for all 32 asset presented to council, the implementation phase of the process has begun where the finer details are being worked though for each individual asset. Council is working in consultation with the user groups affected to implement the recommended approach in line with the following principles:-
Council will remain focused on delivering outcomes that benefits the whole community.
Council is committed to reducing depreciation, Insurance premiums and other operational costs.
Council encourages assets to be shared amongst multiple users to increase utilisation rates.
Council is committed to work with users to minimise the impacts where possible albeit the way they use Council infrastructure may change.
Follow up on affected users after implantation is completed to maintain Council's support.
In accordance with the recommended rationalisation approach and considering the above principles, progress towards the resolved rationalisation option for the following assets has been achieved and endorsed by council via resolution.
Support the asset disposal via tender or auction of the following assets:
Demountable building Warrina Lakes;
Old Tully VIC (CRACA) (if Community Groups are unable to demonstrate ongoing commitment to the future use of the facility);
Silkwood Tennis Courts and Buildings;
Employee Housing;
Innisfail Fishing Club;
Mullins Hall;
Tip Byrne Building and Toilet Block (Igloo) (if Tully Pickleball are unable to demonstrate their ongoing commitment to future use of the facility);
Tully Gem Club.
Support the establishment of Leases or user agreements over the following assets:
Innisfail Men's Shed;
Mourilyan Kindergarten;
Tully Girl Guides;
Innisfail Dance School Building;
MARCS Park Girl Guides.
For a full update on the implementation of the Asset Rationalisation refer the following reports:
Community Use of Assets
The way in which Council has historically managed the use of parks and facility assets has varied over time and has lacked consistency and transparency. To address these irregularities, Council resolved at its meeting on 12 December 2020 to adopt 15 principles to guide its management of the use of assets by the community into the future. Council also resolved to develop a policy and framework based on the 15 principles. To add clarity to the principles and paint a picture of what they will look like, or not look like in application, examples have been developed to guide the development of the policy and framework. On 25 February 2021 Council resolved to:
- adopt a number of expectations and responsibilities;
- utilise these expectations and responsibilities to guide the development of its Policy and
Framework;
- utilise these expectations and responsibilities in progressing the asset rationalisation
project and any other matters that fall within the scope of the community use of assets
| # | Name | Size | File Type | Download |
| --- | --- | --- | --- | --- |